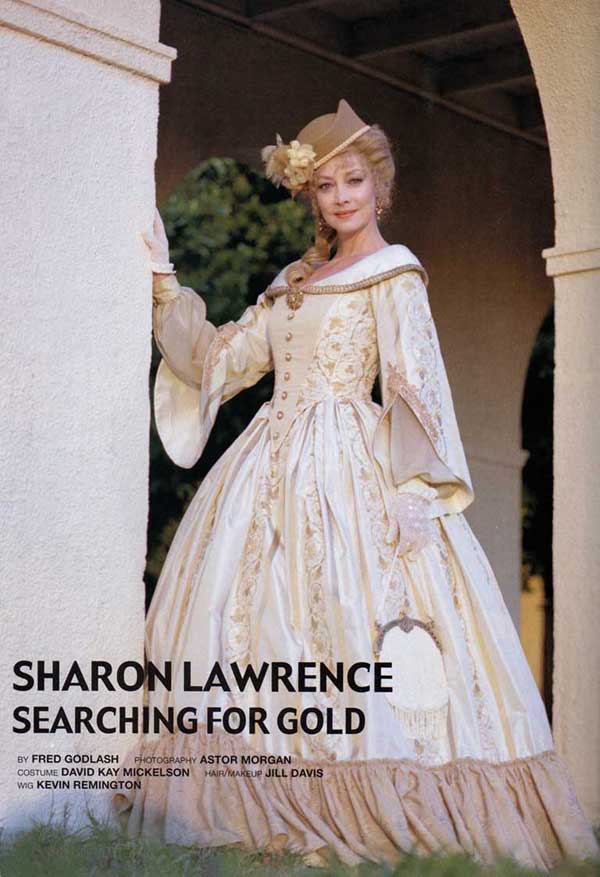 From Venice Magazine 2005
Searching for Gold
Sharon Lawrence is not the type of person who chooses to sit on the sidelines. Her quest to satisfy her burning desire for creative expression has her currently involved in many projects, including the hit television show "Desperate Housewives," the feature film, The Alibi, and the revival musical, "Paint Your Wagon," at the Geffen Playhouse at the Brentwood Theater. Although the former "NYPD Blue" actress admits she has her hands full, she bubbles with enthusiasm about being on stage again, playing Lily Smith in "Paint Your Wagon." The Alan J. Lerner-inspired musical is about hope and love during the California Gold Rush. Lawrence's character, the rambunctious Lily, is a new addition to the play, thanks to the fresh adaptation by David Rambo. The West is alive and full of gold, thanks to Lawrence, who took the time out of her busy schedule to talk with us about her career, life, and current turn on the boards.
How did you become involved with "Paint Your Wagon?"
Sharon Lawrence: I got a call from (Geffen Producing Director) Gil Cates (who is directing "Paint Your Wagon"). I had worked with him on another play a couple of years ago. We were trying to find something to do together I just finished the reprised production of "Company," so I had done my annual stage work already. But I was happy to work with Gill I was very pleased with the crew at the Geffen. It wasn't hoity-toity, no drama, I really loved the script. I never seen "Paint Your Wagon," the Film or the musical back in the '50s, So this was totally new story to me, and David Rambo's book, of course, has changed a lot of things. For instance, he brought back the relationship between a father and daughter and actually created a character in Lilly Smith that never existed before.
Can you tell us about Lilly?
She cracks me up!! She does! I read it and said, 'well, this will keep me entertained.'[Laughs] You know, she's somebody who obviously is a fish out of water, but more than that she's game. She's ready to adapt to any circumstances. When Ben Rumson (Lily's romantic partner) says, "This is hard country," she knows that down deep she is a trooper, and that means literally the old sense of the word- moving from place to place, but also being able to hang in there. Lily wants a home, and she finds a home with this man, as a rough and tumble as the conditions are, as treacherous and harsh. I thought of my relatives who settled in the mountains of North Carolina. They lived a really tough existence I have such respect for the people that definitely carved out our culture and world by being willing to endure the hardships. I have never thought of an actor's life is a hard life. I just never did. And not because it was always easy, that's not what I mean. I just mean that it is no more burdensome than any other business. But there is something about the spirit of an actor who is willing to risk the unknown. That's something I feel is a kinship with her (Lily). You never really know what's going to be around the next corner. She's narcissistic but she also cares about other people. She cares about her stepdaughter. I think she is the one person who can see that this young girl has to right to her own heart. I like a lot of things about her.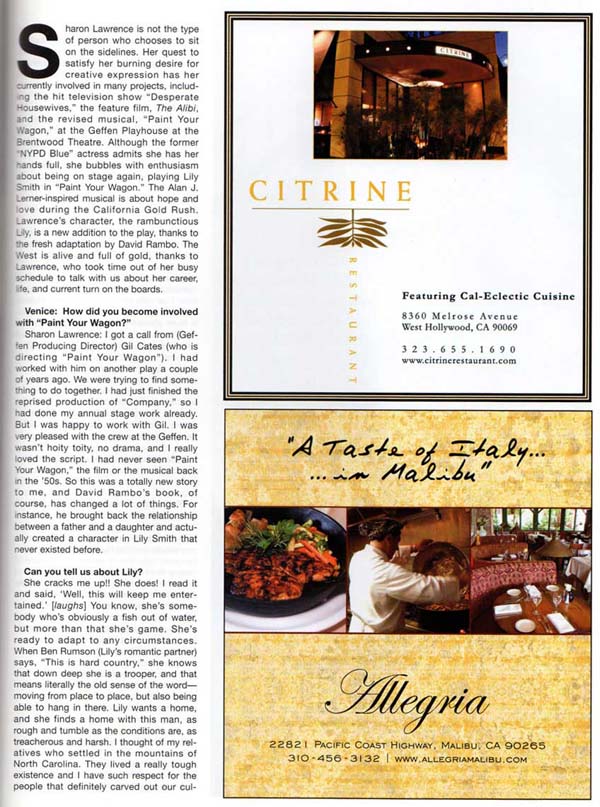 Do you enjoy playing a comedic role like Lily as opposed to a serious drama like "NYPD Blue"?
Well, the last play I did at the Geffen was very serious. Really tough, I mean just viciously dramatic and very demanding. I took the role because I wanted to step into that woman's shoes. Any role that I do is more than about the experience of that character and story than my comfort zone. I never thought about being an actor based on my personality was most geared to showcase. At this stage in my life, I do care about whether or not I'm growing, or if I'm sort of in the stagnant place. That's what determines my choices more than the love of one genre or the other. I quite frankly would be very dissatisfied it if I didn't have variety in my life.
This also prevents typecasting.
I have been very lucky I haven't been typecast.
What are some rolls you have been playing?
Just this summer I did two features. I played an earthy mother who understands everybody, and then in another I played this betrayed wife who is vicious to the point of having her husband arrested right in front of her for his infidelity. I play a very competitive Nazi mom who was completely unlikable on "Desperate Housewives." I mean there is nothing redeeming about her. But it's delicious to be part of that world because it's Campy and I do enjoy working with people whom I've known for a couple of years and respect. I'll be coming back in stepping into that world as somebody who has a secret, but she's not a good woman. So I really do like the range. I never wanted to play myself. It's not what I'm interested in; I get to be myself all the time.[laughs]
Would you say you prefer the theater or studio?
I just like the variety. There are things that you cannot accomplish on the stage, which you can only accomplish on camera. a certain kind of subtlety that I love. Then, of course, it affords a different lifestyle than on stage, meaning your compensation. But the stage work creates a community that film and television work can't. Sitcoms create a family but hour-long and features just so parsed out, it's so chopped up, just the process of it. There'll be people that I've worked with on "NYPD Blue" that I never saw for years! I mean, I see them at parties, but we never worked together. The community effort that happens onstage, backstage, and in rehearsal, throughout the whole process, I really love and crave that's why I do it at least once a year.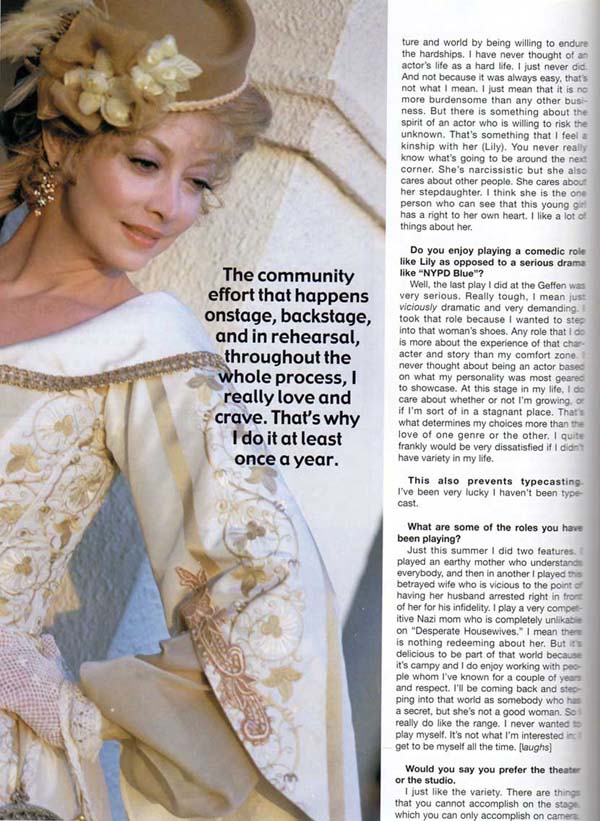 What other stage productions have you been involved in?
I was on Broadway for many years. The latest Broadway production I did was "Chicago." I played Velma in that production. That was part played by Catherine Zeta-Jones in the film. I worked with Anthony Quinn and "Zorba," Joel Gray in "Cabaret." I've always kept close to theater.
You must get a lot of energy from a live performance?
That's true. It is something that I liked about Sitcom work, too, that you could tell if something was working. You knew. In film you don't know if it is working. It is a director's medium but the stage remains in the hands of the actors. It is our burden to bear to make things work.

As for the director's medium, are you currently doing feature film?
Well, I have a couple of films that will probably be out this summer. One is a comedy called The Alibi with Selma Blair, James Brolin, John Leguizamo, Rebecca Romjin-Stamos, and plenty of others. That is the film I played a spurned wife that goes ballistic. It was a fun film. And then there is another film Gregory Smith and David Morse called Nearing Grace.

Is there one particular role that you would like to play?
I don't know if I will ever do it but I would like to try some of the works of Shakespeare. I would also like to play Desiree in "Night Music." I don't know. If I can work with great writers, then I have a lot to look forward to. I always felt like a character woman and I can't wait to get my hands on the roles I will play when I am in my sixties. I look forward to a career that allows me to explore what people of all ages and all experiences get to live through and the stage is the place to do that.