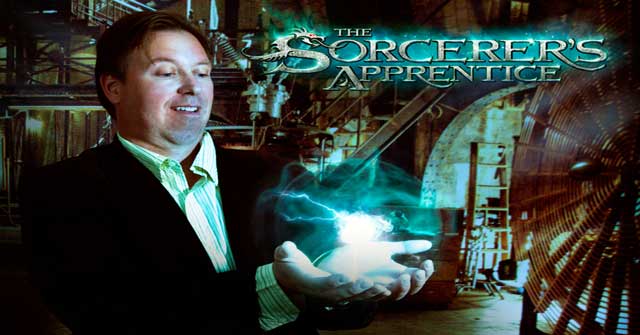 The Wonderful World of Disney is at it again with a modern tale of "Fantasia" for kids and parents as well. The film pays homage to the classic poem by Johann Wolfgang von Goethe and to, inventor and electrical engineer, Nikola Tesla. But in the end the movie is a family picture about sorcerers, magic, and boy meets girl.
The picture is not a remake of Fantasia but like an apprentice, it is training a new generation of kids in fantasy, magic, escapism, and old fashion suspension of disbelief.

Set in Manhattan, the film begins with young Dave who has a tremendous gift for science. Dave meets, by fate, his teacher, mentor, and sidekick, Balthazar Blake, who shows him how to use the full potential of his mind- after explaining to Dave that a sorcerer is really a person that can use 100% of the brain instead of 10% like the rest of the population. The line between magic and science, superstition and knowledge, fantasy and reality, are blurred. I couldn't help but think that kids may be more cynical today and the film had to have some science in it to make it believable for them. Or possibly parents couldn't sit through a fantasy film without some base in reality.
The motion picture is a fun and adventurous ride that is family friendly and full of suspenseful humor. I would not recommend the film for people looking for a serious fantasy film like "Lord of the Rings" or even the latest Harry Potter. The story is a very lighthearted tale full of excitement and exploration; bring the little ones!
Technically the film looks beautiful with rich colors, lots of blue/green, with nice cinematography and CGI effects that don't call attention to itself at the expense of the story. Sorcerer's Apprentice has a nice score by former rocker and master composer Trevor Rabin. Produced by Jerry Bruckheimer and Nicolas Cage and directed by Jon Turteltaub. The film stars, Nicolas Cage, Jay Baruchel and Alfred Molina as a great villain on a mission to destroy the world!!!!