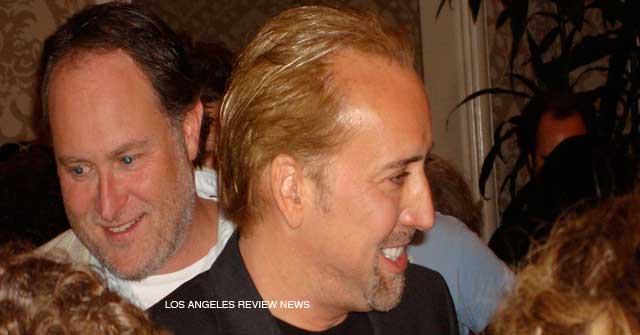 The press waiting patiently for the cast of Sorcerer's Apprentice to start the conference. Once everyone was seated the questions began. The text below is a transcript from the actual junket.
Q. I thought the movie was awesome. Question for Jerry Bruckheimer. We heard you started production on Pirates of the Caribbean: On Stranger Tides; how is that going? Have you seen any difference with director Rob Marshall?
A: Jerry Bruckheimer- It is working very well filming in Kaua'i. We have finished our first week going into the 2nd of production and Rob is doing an amazing job. Johnny (Depp) couldn't be happier playing Captain Jack. He got right into character. There are new twists and turns.
A: Jon Turteltaub- Did anyone in this room think that Jerry Bruckheimer would say anything but that? (Laughter)
Q. This question is for Jay (Baruchel) you're filling some pretty big shoes: the legacy of Mickey (Mouse) and the legacy of Merlin. What is more difficult filling Mickey's shoes or old man Merlin?
A:Jay Baruchel- Mickey! And its not shoes but gloves. (Laughter) There is gravity to it. It's not launched on me. Shooting the famous sorcerers sequence, the Fantasia sequence. The scene where the mops come to life- worst case scenario, every time someone sees the cartoon I will be irreparably connected- that kid- how terrible was that- I felt like the ghosts of my grandparents are watching me. When you are paying homage to one of the most iconic sequences in film history- it is like -right up there with the people making out on the beach from the scene in" From Here To Eternity"; it is a big one. So I tried my best to kind of fulfill – do everything I had to do to in terms of paying homage to the character and sequence…….but yea I was scared shitless.
Q. The magic shop in the film- it looks like it was shot in Manhattan. Was it an actual place?
A: Jon Turteltaub- We spent a lot of time looking at shops and locations. The magic shop in the film was a set because most shop owners don't like when we set the building on fire. The trick to that is not so much the set but the set dressing. We had a lot of crazy things in the shop-Bear's head is hard to find. Balthazar Blake- Nick is a powerful presence as a person- there is something very strong and masculine about Nick- you feel when you around him. It was really important that this sorcerer be taunting and intimidating figure. You always feel the safest with the dangerous person on your side more than the good person on your side. And it was able to bring all of that without loosing that sensitivity, and hardness, and goodness. And that is the edge; because most actors draw on themselves to find that character.
Q. Apparently Jon (Turteltaub) went to Beverly Hills High School with Nick (Nicolas Cage) and once beat him for a role in Thorton Wilder's play "Our Town." How have you guys changed sine then?
A: Nicolas Cage- Well first of all, let it be known that Jon is a really, really good actor. We were in the Beverly Hills drama department together. I auditioned for a role in the play "Our Town" he got the lead and I got to play Constable Warren and he will never let me forget!
A: Jon Turteltaub- Warren is spelled W>A>R>R>E>N (Laughter)
A: Nicolas Cage- Well the thing about this- the magic of it- when the idea was created to develop Sorcerer's Apprentice- I wanted Jon to direct the movie. We went to a play at the Beverly Hills High School ( my son was in it) and we were sitting in the old seats, the old drama department-watching the play. And we started talking about doing Sorcerer's Apprentice. So we have come full circle. The movie has been like that with a magical quality.
Q: What attracted you to this project?
A: Nicolas Cage-Well the reason this all happened for me- I had an interest in mythology- particularly in ancient England. I wanted to make a movie that resonated that but at the same time make a family movie. I like the midnight movies as well but I wanted a family movie- give folks something to look forward to- congregate together- smile together. I think that is one of the better ways to apply myself. So it made sense to me that I would do a character that relied on magic. Jon- if you look at his career carefully – he has always made positive movies- that never resort to gratuitous violence or gunplay- and that is really hard to do- to pull that off. His vision is to make people happy- very positive vision. And Jerry (Bruckheimer) you know is going to make a movie that is going to have lots of chrome and gloss is big, glossy, sexy, and fun. He put it together and that is how it happened.
Q. What was it like working with Jay (Baruchel) and younger actors?
A: Nicolas Cage- I love working with younger actors- they come into the game full of energy and ideas that challenge me. But Jay is somebody- and I am so thrilled to see this- he is not afraid to go off the page and improvise something. And some accidents would happen that would help- we kept that going the whole time. And another thing I wanted to say- I always believed that the greatest actors are the ones that have there own voice- I think Jay has that- if you look at Humphrey Bogart, Clint Eastwood, Edward G Robinson, Marlon Brando, and Jack Nicholson. That is hard to have- and that just jumps off of him- gets in your head. And is going to be there forever. (Laughter)
A: Jay Baruchel- You know for me you can approach a situation in one of two ways. When you work with someone who is close to hero status being in the presence of greatness you can just do nothing at all or you can work with a guy who is the reason why you became an actor and now that I have my chance I can work as hard as you possibly can. And that is what it was with him (Cage) I would show up on the set everyday and have work and conversations with this guy who you are in awe about everything about him. But I didn't want to blow it. So I worked as hard as I possibly could so I could be as good as he is.
Q.Are you afraid if the movie will be successful or would be judged in comparison to Fantasia?
A: Jon Turteltaub- I think that the fear comes from all of you- the press. I don't think that we go into it thinking that the audience will be too judgmental or our place in movie history- they just want us to make a good movie but the way that the movie will be talked about by the press, and the critics, the people who write about- that is where we have to be careful. You are going to tell the public if we succeeded, or didn't. There was a lot of that in our minds which means it had to be done in a very modern way -we had to make a movie that felt relatable- that it affected the story and was relatable to the characters.
A: Jay Baruchel- Any time you are paying reference or homage to something that meant a lot to other people for many generations. You have to approach it with a degree of reverence. I would like to say we had a really great scene to share it from- Sorcerer's Apprentice are two words that meant a lot to people for a long time and if we failed it would mean a lot- hopefully we have given it what they are used to.
Q. What does it take to make Sorcerer's Apprentice?
A: Jerry Bruckheimer- It all comes down to storytelling. It all starts with a good idea. In Sorcerer's Apprentice the idea comes from a classical Goethe story. That you have a great director, great writers, and the actors are the ones who build everybody's vision. That is why when we were developing the project- that is the easiest and hardest thing to do. It is easy to come up with an idea but it is hard to put it all together. Once you do put it together it is up to the audience to – to you what you do about it. If the audience embraces the idea you have a franchise. If not you don't.
Q. The film reminds me of animation. Did you look at any?
A: Nicolas Cage- In terms of the choreography, early on we were talking about Balthazar wearing bracelets. I really felt is was important for my character to use his hands like a conductor. And that is where Michael Kaplan so brilliantly came up with the rings on each finger. That was always on my mind.
A: Jay Baruchel- For me I would be lying if I said I haven't been practicing shooting magic out of my hands (laughter) It is all Akira, Street Fighter 2, or the end of Return of the Jedi, I have been grooming for this! It is like (mimicking scene from Return of the Jedi) "I moved it!" (laughter)
Q. What was it like for Teresa (Palmer) and Toby (Kebbell)to work on the film?
A: Teresa Palmer- Yea I actually have known Jay a little bit before hand- we were attached to a film- we did a little rehearsal for Justice league of America. Coming into the project I knew Jay and of course I knew Jerry Bruckheimer, and Nick and I have known Jon's films too. I think it was really daunting and then I worked with them and they were all wonderful people. I have haven't done that many films but I really enjoyed my time. I think it makes you step up to the plate-I felt really welcomed.
A:Toby Kebbell- For me it was trying to get the role and desperately trying to figure out how to do it. I worked with Jerry before so I knew I could let my imagination to run wild and come up with something- it was nice to work with such an experienced crew.
Q. In terms of today's economy, did you feel more pressure to make this film?
A: Nicolas Cage- I just wanted to make a good movie. I really felt that the movie Gods are with us on this one. Specifically Walt Disney- I think he would have been happy with this. I wasn't thinking much about how we would connect- it was just about do the best we can do. Try to channel a little bit of the spirit of Fantasia and Walt Disney.
Q. Were there real magical moments in the film?
A: Nicolas Cage- There were many magical moments throughout the whole film. One of the more interesting things was that Tesla-coincidentally- we wrapped production on his birthday. Coincidentally he died the day I was born-with that said I stayed at Nikola Tesla's room to channel his spirit and nothing happened but I did see a pigeon out the window. I read that Tesla liked pigeons so I decided I would find a way to put a pigeon in the movie and fix his leg. (laughter)
A: Jay Baruchel- To go one step further we were shooting Bryant park which is the building where Toby's character- the street is Nikola Tesla Way.
A: Nicolas Cage- He is all over the movie.
Q. There are religious fanatics who picketed Harry Potter movies accusing them of publicizing witchcraft. Were you worried about anything like this because you are dealing with the occult?
A: Nicolas Cage- No, no, no- this is a fantasy movie. It is designed to make kids smile- make kids happy. It is based on one of the great short animated scenes in Fantasia. That's it and that is what we were going for. I really wanted to entertain you with Balthazar and the characters.
A: Jay Baruchel-Alchemy predates fundamental Christianity.
A: Nicolas Cage- For me I wanted to do this as a homage to teachers- in general- to sing an ode to teachers, social workers who are paid nothing, teachers that expand young people's minds. They just care about educating people- that was my father. It was sort of my gift to him.
Q. The word occult means hidden.
A: Nicolas Cage- That is exactly right and I didn't fully answer the question. The word occults means hidden- it doesn't mean witchcraft. It means invisible. In the Victorian era that word was used in science experiments. What I am trying to point out is that this isn't a witchcraft movie.
Q. You mentioned you have tried to channel Tesla in his old hotel room. Any other odd tales?
A: Nicolas Cage- The story I shared with you was the furthest I had gone but I just want to say that anyone can believe what they want to believe- and that is your right- we also believe in Amnesty International- you can believe in anything you want- I didn't come after this movie as a witchcraft movie but if that is what gets you through the night- so be it- I am not here to judge anybody.
Q. If you had the ability to do magic one time what would you do?
A: Nicolas Cage- I would just keep doing what we been doing. I just want to keep making movies and hopefully make some kids smile.
A: Teresa Palmer- I would teleport to Australia.
A: Jay Baruchel- I would blow something up with my hands.
A:Toby Kebbell- I would like to go flying.
A: Jon Turteltaub- I want to see through women's clothes.
A: Jerry Bruckheimer- I think I like things the way it is.
####