By Fred Godlash
One of the great highlights this past weekend at the Creation Entertainment's Weekend of Horrors was getting to see director John Carpenter. In case you have lived under a rock and do not know any of his films; here are a few- Assault on Precinct 13, Halloween, The Thing, Big Trouble in Little China, Prince of Darkness, Christine, Starman, They Live and about 20 more. Carpenter is arguably one of the most celebrated cult directors of the past 35 years, yet hugely underrated by the mainstream. The director sat down with over 500 fans to talk about his career and frustration with critics, the mainstream filmwatchers, and box office alike.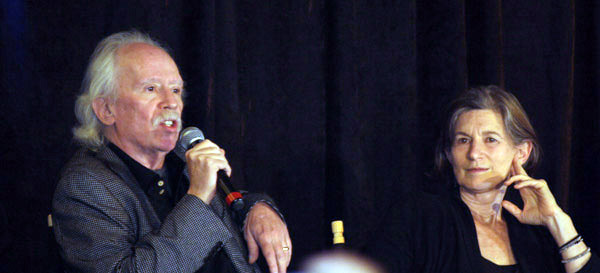 John Carpenter entered the packed convention to a standing ovation of crazed fans. As the crowd quieted down Carpenter amusingly commented that he has the same answer for all questions about his career- all his films are discovered after they fail in the box office. Not sure if everyone agreed with his assessment but most fans love Carpenter for not resting on his achievements and being so outspoken about his critics. The generic questions started with his first film, Dark Star, made at USC and segued into his making of Halloween. Even discussing his biggest commercial hit Carpenter downplays the achievement by stating that the critics slammed Halloween and the initial box office was horrible but word of mouth saved the film. When one fan asked about "The Thing" Carpenter replied that it was one of the worst box office opening weekend films he had at that time and that was his first major studio film. When asked about "Big Trouble in Little China" Carpenter replied, "Where were the fans on the opening weekend?" One fan tried to stump Carpenter saying that "Starman" was commercially successful but the director shot back," At least Jeff Bridges is getting the recognition he deserves now." Starman did not do well at the box office. It dawned on me at this point what makes him such a prolific filmmaker is the honesty and lack of restrain both on and off the screen. Carpenter 100% does not pull any punches to fans or critics.

The fans continued to show their love and appreciation for the director asking about all his films. In the end, Carpenter left to a cheering crowd wanting more but like the opening box office to a classic Carpenter film he had to disappoint.
But like his legacy, Carpenter is well loved amongst fans and not unlike Alfred Hitchcock, Orson Wells, and countless other directors, will be recognized by the mainstream masses in the twilight of his career for the genius creative efforts made by the master- John Carpenter.