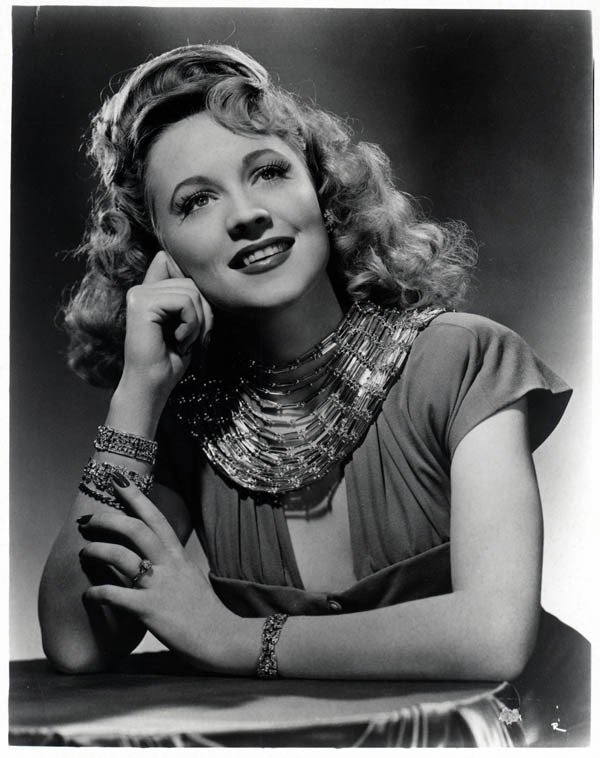 Actress Anne Jeffreys is no stranger to horror or any other genre having worked in film, television, and on Broadway. Her career spans over 68 years and she has worked with Bela Lugosi, Glenn Strange, Lionel Atwill, Buster Crabbe, Johnny Weissmuller, John Wayne, Frank Sinatra, Robert Mitchum, and everyone in between. Sitting down with Anne Jeffreys is like going into a time machine and experiencing the Hollywood of the past before reality television, the internet, or the corporate mega blockbuster! Anne was nice enough to sit down with Los Angeles Review News to discuss some of the creepy highlights of her career.
How did you get started in the business?
I started very young. I loved music. When I was 15 years old my mother took me to New York. I studied with a Julliard teacher there, and was working with the Manhattan Opera Company. At 16 my mother took me out to Hollywood without knowing anyone or anything. She took me to an agent who put me in my first picture called Billy the Kid Trapped.
Do you think you were lucky to arrive in Hollywood, get an agent, and get placed in a film?
I feel I was extremely lucky but at that time I was not signed to a film contract. I did some work including Tarzan's New York Adventure but I did not get my break until I went to Republic Pictures.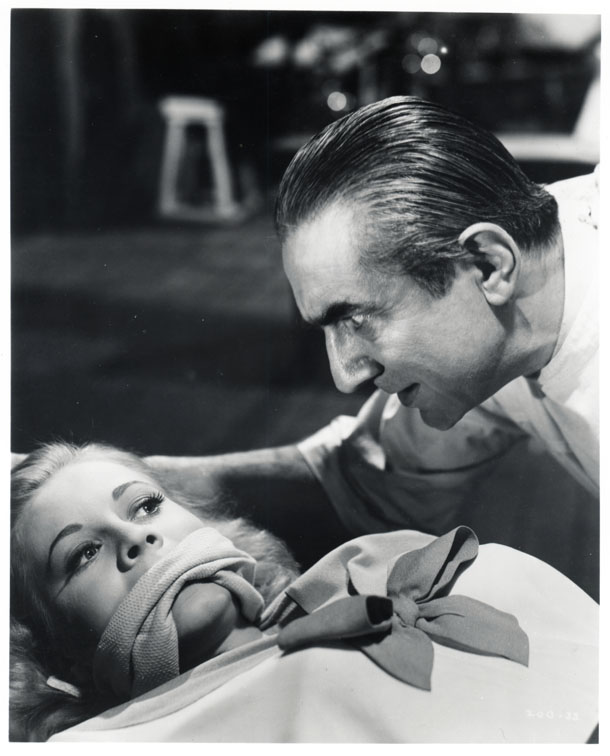 How did you get signed to Republic?
The day Carole Lombard died I was doing small parts at Metro Studios. Everyone was crying and the mood was very somber. My agent said to the dramatics coach, " We're very sorry for all of this, but what are you going to do with this girl?" The dramatics coach said that I was very blond, very southern, and very sweet but I don't know how much we need of that right now. My agent said, "Look, either you get her a contract this afternoon or I bet you $100 dollars I will have her signed by the end of the day." So she said, "you're on!"
So we got in his car and drove into the valley, I had no idea where I was, I had only been in California a few months. We were at some studio and he took me to someone who ran casting. My agent said, "She's pretty, she can sing, she can dance, she can act." They said, "Well, test her!" So they sent me down to the music department at Republic. After I sang some songs with the music director they sent me back to casting. The casting director said, "Ok you can sing, you've got a contract!" So, I walked out of the Studio saying where are we? Where is this place? And he said Republic Studios. And I said, Republic Studios, not Metro? (Laughter). I guess my agent got his $100.
Any regrets?
No no, it was a great place to start. I consider Republic Pictures my family.
You worked with Bela Lugosi on two films; Zombies on Broadway and Genius at Work. What was it like working with him?
He was a character. (laughs). He was very quiet and never spoke unless spoken to and I understand that every night he was at a restaurant on Ventura Blvd. called the Green Dragon; it was called that because the bar had a green dragon over it. Any night you could find Bela Lugosi sitting under the dragon drinking. He apparently was a pretty good drinker. I never knew him personally, away from the studio, only as a performer. He was always right there on time and did his part beautifully. There was one scene (Zombies on Broadway) where he's in a coffin and I'm supposed to walk in and hit him over the head with a monkey wrench that was in my hand for protection. I'm afraid and it's in the dark, of course, always in the dark. The monkey wrench was made of sponge rubber with a wire coat hanger inside so it would hold its shape. I walked in as he rose up out of the coffin and I hit him so hard it bent the monkey wrench! (laughs). He scared me so bad!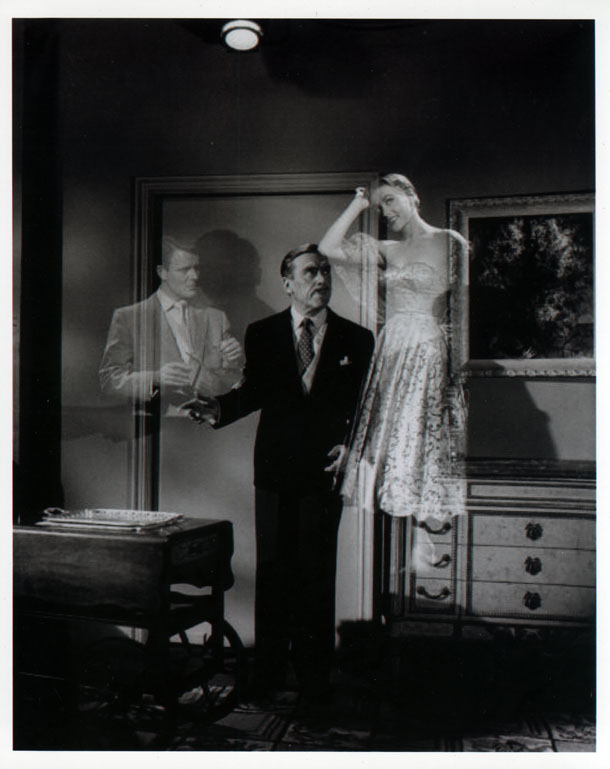 Would you call that method acting? (Laughs)
I would call that scared acting! I was so frightened but it was fun; he kept to himself.
Was Zombies on Broadway a Republic film?
No, my contract was bought out by RKO. For some reason RKO wanted to buy my contract which they did for the Frank Sinatra Film "Step Lively". I left Republic and went to RKO and I was at RKO for I think 4 years. They lent me out to Monogram to do Dillinger in 1945.
You seemed to work a lot of studios back then?
Dillinger was the loan out from RKO. The others were under contract. You know I did so many films, I called myself "Get Annie".
Why Get Annie?
Because if someone didn't want to do the role, they would get Annie! (Laughter)
I did an awful lot of films, most were B pictures.
What was the RKO backlot like? Were any of the King Kong sets still in existence?
No. Unfortunately they tore those sets down by the time I was working there. See, I came out in 1941, and I think I was under contract with Republic until 1943, and then I was at RKO. And then I went to Broadway.
I find it interesting that you had a film career and yet chose to go to New York to do Broadway. Did that lead to your transition to television?
I started doing Broadway while taking time off on a RKO publicity tour. I eventually told the head of RKO that I wanted to pursue a musical in New York. He said they would give me a big picture if I returned- a psychological western. I said "Who's the leading man?" I thought maybe Gary Cooper, Carey Grant? They said Robert Sterling. I said "Robert Sterling!" I turned it down.
Not long after I worked with Robert Sterling; we fell in love and were married in 1951. Robert and I were doing an act in Las Vegas that was a comedy duo. It attracted a lot of attention and I received a call informing me they wanted to do a TV series based on the Topper films. I loved Topper. And they said you play Marion and George Kerby, the two ghosts. We of course jumped on that.
So they liked your live show so much they wanted you to do Topper for Television?
Yes. We were still performing nightly at the Coconut Grove at the Ambassador Hotel while we shot the pilot. The pilot was a hit and we quit our live show and ended up doing 79 episodes of Topper from 1952-1955
Was Topper shot on film?
Yes it was film. We shot Topper like a movie – not kinescope. So it was strictly a film production. We did Topper at the Goldwyn Studios near the Formosa Café on Santa Monica Blvd.
So that was your return to the supernatural. Were there any interesting special effects used on the show?
A lot of it was pop in and pop out. You would freeze, they would shut the camera off, set your mark, you would walk away, and then they would turn the camera back on. If they wanted you back in, you would stand on your mark in the same position.
We also did some glass shots that are reflection shots. They were very difficult. The set that we worked on was set A, and then there was a duplicate set that was reversed called set B; that was the reflection set. We had to do everything backwards because we were playing two different scenes at one time (laughs). So that wasn't easy, but we did it and it was fun.
So did you choreograph your marks?
Well that could be, or you could just be sitting through the reflected glass talking to Topper. It depended on the scene. Sometimes we would be facing the other way that we were in the original scene, because we had to be transparent, remember everything was backwards because it was filmed on a reflection.
So the camera was pointing at the glass and it gave the illusion of transparency?
Yes. We did not use blue screen.
Any other revelations while working on Topper?
I was very pregnant the first year we did the Topper series.
Did you have any problems shooting Topper being pregnant?
Well there was one scene, My character Marion is floating up above, looking down, above Topper, I had to lye on my stomach, and look down at them, and I was on a plank about 12 feet up. I hadn't told them that I was pregnant; I was 6 months pregnant! Of course I was very thin and we wore poodle skirts, which were spread out, and we also wore something called Merry Widow bras, which cinched your waist way in, so nobody knew I was pregnant. I didn't want people fussing over me; so I didn't tell them. Robert came in and saw me lying up on that plank on my belly! He yelled, "What is she doing up there? Get her down right away!!" They said "What? What?" And he told them "She's six months pregnant." Well, they nearly fell over and didn't try anything like that again.
Did you fear any kind of retaliation for being pregnant on a hit series?
No, because we were the stars of the show. They had to go with us. The only thing was, when we finished for the season, we'd take 2-3 months off in between starting up again. The network would come in and say, "Have you had that baby yet?" And I'd say "nooo…not yet!" And that baby decided he was going to be 2 weeks late. The studio nearly drove me crazy. When he was finally born, I was on the set the next week!
So you went on to have a big career in television including episodes of, The Man from Uncle, Tarzan, Battlestar Galatica, Buck Rogers in the 25th Century, Fantasy Island and even working on the soap opera General Hospital. Do you still work in films?
Absolutely! I did some films in 2008. I am very fortunate people still want to see me act. You will not see me on the new season of Dancing with the Stars. (Laughs)
Photographs compliments of the Marvin Paige Motion Picture &Television Research Archive